What if you woke up one day to find that you lost precious photos of dear ones? How about losing your business documents, research and other important data?
Shivering thoughts, with a simple solution: BACKUPS!
Choose FBackup if you're looking for a free backup software with simple features, or the commercial
Backup4all
for more advanced backup options.
Perangkat Lunak Cadangan Premium
Backup4all Professional
FBackup
FBackup melakukan backup file. Secara gratis.
About FBackup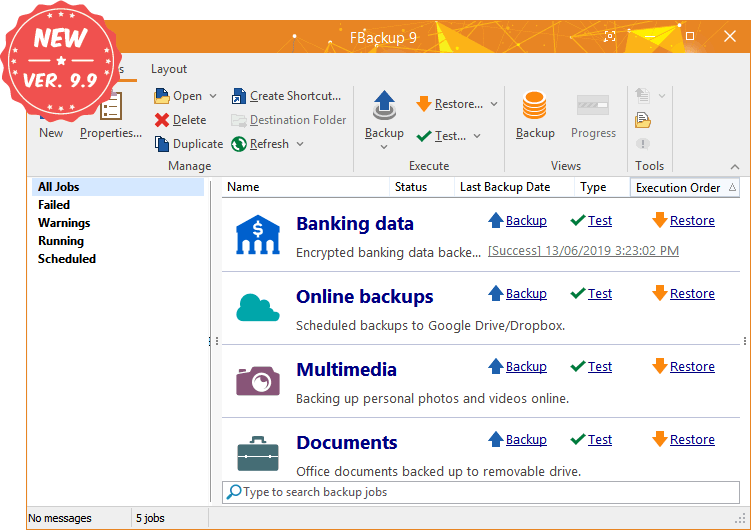 FBackup memiliki antarmuka praktis dan membimbing Anda ke proses menentukan pekerjaan backup menggunakan wizard ramah yang bertanya kepada Anda:
Di mana Anda ingin menyimpan backup tersebut (tujuan).
Di mana Anda ingin mem-backup (sumber tersebut).
Bagaimana Anda ingin menjalankan backup tersebut (menggunakan backup penuh yang memasukkan file ke zip, atau backup cermin yang tidak memasukkannya ke zip).
Kapan Anda ingin menjalankan backup tersebut (Anda dapat menjadwalkannya untuk dijalankan secara otomatis atau manual).
Setelah pekerjaan backup ditentukan, Anda dapat menjalankannya secara manual dengan menekan tombol Backup (atau F6), atau jika Anda menambahkan penjadwal, pekerjaan ini akan berjalan secara otomatis. FBackup dapat mem-backup sumber dengan mudah dari drive lokal (termasuk drive yang tersambung ke USB) ke tujuan seperti perangkat yang tersambung ke USB/Firewire atau lokasi jaringan yang dipetakan. FBackup membuat file zip standar (saat menggunakan jenis backup penuh), atau salinan sumber asli yang persis tanpa kompresi apa pun (menggunakan jenis backup cermin). Yang terbaik dari perangkat lunak backup gratis ini adalah melindungi data Anda secara gratis.
Read more
Screenshots
Fitur Utama
Gratis untuk tujuan pribadi dan komersial..
FBackup adalah perangkat lunak backup gratis baik untuk penggunaan pribadi maupun komersial. Ini berarti bahwa Anda dapat menghemat sejumlah uang dengan tidak perlu membeli program backup lain.
Backup otomatis..
Anda menentukan pekerjaan backup, mengaturnya untuk berjalan secara otomatis, dan tidak menggunakannya. FBackup akan menjalankan backup tersebut secara otomatis pada tanggal yang dijadwalkan, jadi Anda memiliki keuntungan tidak hanya melindungi data Anda, tapi juga menghemat waktu yang berharga.
Mem-backup dengan kompresi zip standar..
Saat menggunakan jenis backup penuh, sumber akan diarsipkan menggunakan kompresi zip standar. FBackup menggunakan kompresi ZIP64, yang berarti bahwa dapat membuat file zip lebih dari ukuran 2 GB. Selain itu, Anda dapat melindungi file zip dengan meminta kata sandi untuk mengekstrak data dari zip tersebut.
Testimonials
What our users say about FBackup
I've tried many backup applications over the years. Cobian, Comodo to name a couple. Though those are very good, freeware solutions. I must admit that after trying FBackup, this one is the best I've ever used. It is also very powerful and unique as far as backup software is concerned.
DarrenWalker (Fileforum)
Very useful piece of software for any user. Simple to use and easily backups your files and protects from corruption. I recommend this to anybody looking for a simple and easy to use software for backing up their important files. It's free so it means you don't pay for anything.
Raidenzxz (Download.com)
Have used this software both for back up and more importantly for restore. It worked as advertised. It was simple and worked well. It has saved me now twice when a bad motherboard took out the hard drives in raid mirror setup. I like the better package now due to the greater range of ability.
Breebree (Fileforum)
Easy to use and able to specify just what is to be backed up. I have it set up to do 7 different jobs, Videos, Documents, Music, Desktop, Outlook and Photos. Options of "zip, mirror and full" backup formats provide flexibility when capacity constraints are a factor.
HjHarris (Download.com)
A complete, easy to use, reliable and versatile backup application at last. I was impressed by FBackup after trying (and uninstalling) so many others. FBackup does all the things I want to be done, so it's here to stay. Recommended!
Nicholas (Fileforum)
Amazingly full-featured for a free program. Broad capabilities, including all the 'standard' backup options, but with many more features that the competition holds out for paid upgrades only. It took awhile to find FBackup among all the tools out there, but it was worth the extra searching.
Kfitzharr (Download.com)
Tutorials
Watch videos that show FBackup in action
We're Softland
Learn more about the company that makes FBackup
About us
Softland is a company founded in 1999, committed to providing quality software by using innovative development solutions. We always put the needs of our customers first and that's why we value our users' feedback.
About Us
Contact us
Contact us with any questions/suggestions you might have regarding FBackup. If you are experiencing errors with FBackup, we recommend checking first if there isn't already an answer here:
FAQ
/
User Forum
Get in touch
Our Products
The products we develop and maintain target two different fields: file backup (Backup4all and FBackup) and PDF creation (novaPDF and doPDF). Since 2011 we also run Soft112, a software download library.
Products
FBackup in numbers
FBackup is continuously developed since 2006
FBackup
Download & Rate FBackup